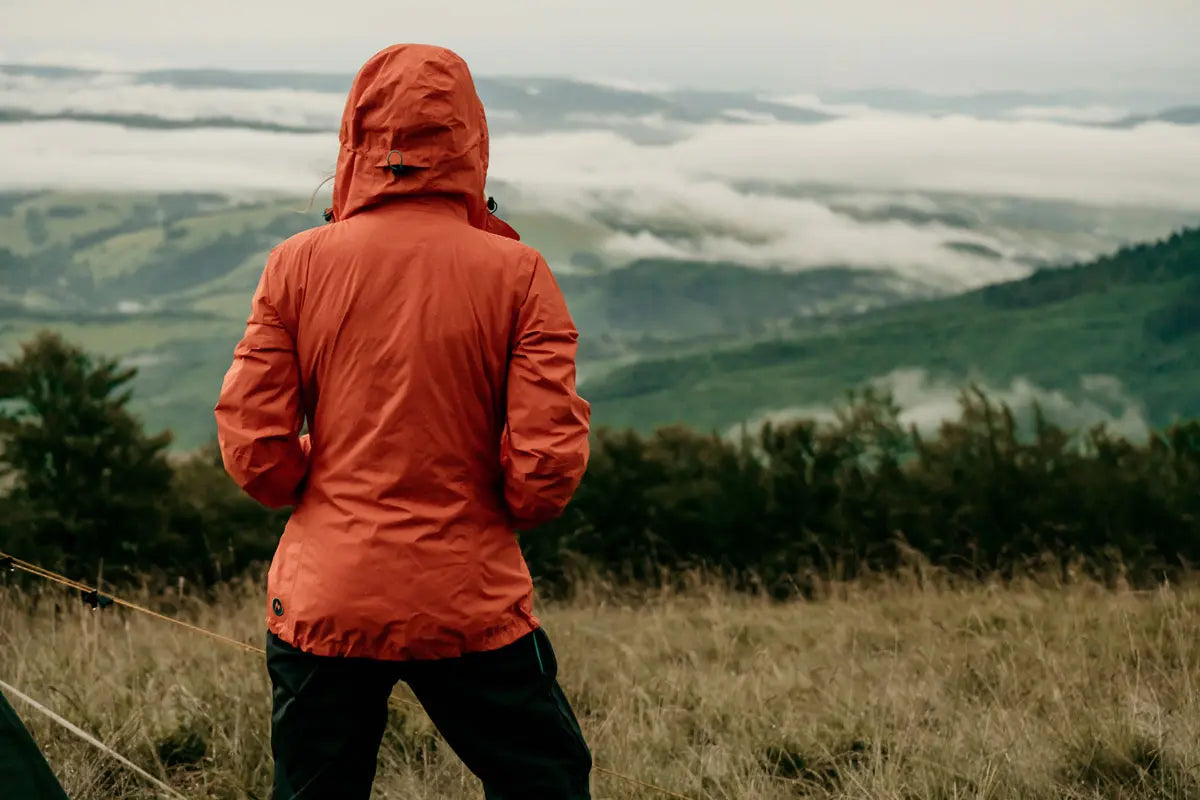 Why PFCs are so dangerous
Greenpeace has been making the topic of "chemistry in textiles" one of its core campaigns for 10 years. Criticism of the chemical PFC (perfluorocarbons) played a significant role in this campaign.
What are PFCs?
In a nutshell: PFCs are carbon chains of different lengths in which hydrogen atoms are completely or partially replaced by fluorine atoms. It is an artificial, man-made substance that is increasingly being used in various industries because of its water, dirt and grease repellent properties. These chemicals are extremely persistent, and they accumulate in the environment and in the food chain. Since the 1970s, PFCs have been used in increasing quantities in the following areas, among others:
Outdoor and functional clothing
waterproofer

water-repellent paints and varnishes as well
dirt- and water-repellent upholstered furniture
carpets
Since the subject of clothing and textiles plays an important role for us at lugema , we would like to focus primarily on manufacturers of outdoor and functional clothing. It was precisely these manufacturers that were increasingly criticized for using environmentally harmful, PFC-containing waterproofing agents.
A large part of modern outdoor clothing - waterproof jackets or trousers, for example - are waterproofed with substances of this class. Commercial waterproofing sprays also contain these chemicals. From an environmental and health point of view, these must be classified as problematic. During the manufacture and use of clothing, they enter water bodies and the air.
What makes PFCs so dangerous?
PFCs can already get into the environment during their manufacture and during the manufacture of PFC-containing products. During the use and disposal of these products, PFCs can also be released later in the life cycle. Neither biotic processes (bacteria) nor abiotic processes (water, air, light) can contribute to the breakdown of PFCs. This means that they cannot be broken down in sewage treatment plants. Water-soluble PFCs are distributed globally via rivers and seas. Even in remote areas like the Arctic and the animals that live there, these connections are found.
Other PFCs accumulate in sewage sludge. If this sewage sludge is used as a soil conditioner in agriculture, plants can absorb the PFCs from the contaminated soil or the chemicals can seep into the groundwater.
Volatile PFCs, for example from waterproofing sprays, are distributed into the atmosphere via air currents. PFCs can also adsorb to particles and thus be airborne over long distances. PFCs, in turn, find their way into soil and surface water via precipitation events.
PFCs are found everywhere today - from Antarctica to the Himalayas to the sea floor, in all plants, animals and water.
How toxic are the substances?
The class of PFCs is large and the individual chemicals differ in their toxicity. Some toxicological studies have shown liver damage in animals. Other studies have shown reduced birth weight of offspring in animals. The substances are not highly acutely toxic. However, it is known that they have a long-term damaging effect, for example they are suspected of reducing the sperm count in humans. The transmission of PFCs from mother to child during pregnancy and breastfeeding and the slow excretion of long-chain PFCs from the human body are particularly critical. PFCs have been linked to causing liver cancer and other tumors. Colon inflammation, thyroid disease, high cholesterol levels, high blood pressure during pregnancy were also found in people who had worked in a contaminated area for a long period of time.
And for children?
Children, in particular, need to be very careful when exposed to toxins. A fundamental problem with jackets, for example, is that they are worn close to the body. With children, there is also a lot of hand-to-mouth contact and they sometimes put their jacket sleeves in their mouths. They can also ingest the substances orally. This can damage the immune system. An unsuccessful vaccination against tetanus and diphtheria can also result from this. It is also known from air measurements in outdoor shops that the waterproofing agents evaporate. They can therefore also get into the body through the breath, especially indoors.
Where are PFCs deposited in the body?
PFCs accumulate in the blood in an extremely stable manner. There they bind to proteins and remain in the body. "The half-life of PFCs in human blood is three and a half to four and a half years," say the experts. Then only half of the toxins are gone. PFCs also accumulate primarily in the following organs: liver, kidneys, brain, bones.
What are alternatives to PFCs?
It is of course possible to achieve waterproofing effects without PFCs. Our mission is to pollute the environment and health as little as possible with the production of our chemical products. We have succeeded in producing environmentally friendly waterproofing agents. These can be applied by spraying, in the washing machine for post-waterproofing or in the foulard (textile machine).
Take a look around our online catalog and learn more about our sustainable alternatives to products containing PFC.